Hello! I'd like to introduce you to the shop
Marisota
. It is based in the UK and is just as the previous shop I mentioned, for plus size gals! They offer a ton, and I mean a TON, of pieces for trendy ladies. I'll be listing some outfit ideas that incorporate my favorite pieces from the shop! Instead of just writing them down, I've also included collages of the outfit in photo.
Enjoy!
OUTFIT 1:
This Marisota strapless boho
dress
would look great with a velvet kimono,
this
Maisota gold coins cuff, and some JC wedges!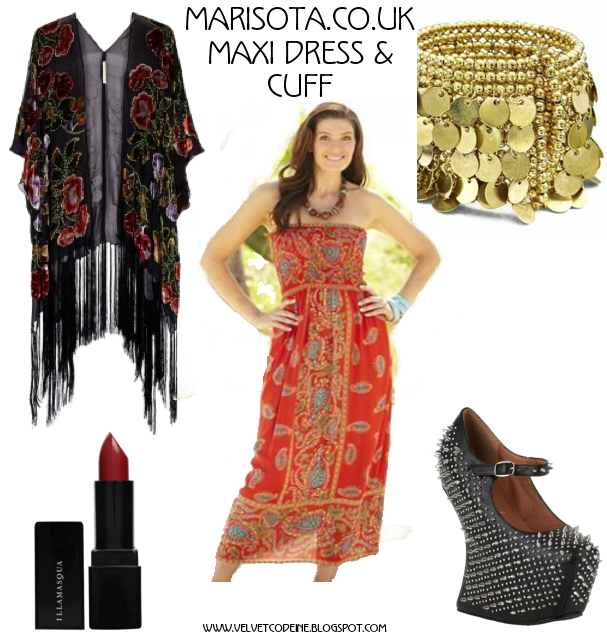 OUTFIT 2:
I just HAVE to say that this Marisota small floral
bag
is adorable and did I mention it's tapestry? AMAZING. It deserves all the spotlight, because you know how bags are totally considered people? Yeah. I think it would look great with a pair of black lace bell bottoms, a floral halo, a sheer blouse of any color, and a vintage egyptian necklace. I feel like any pair of flatforms would look great with this.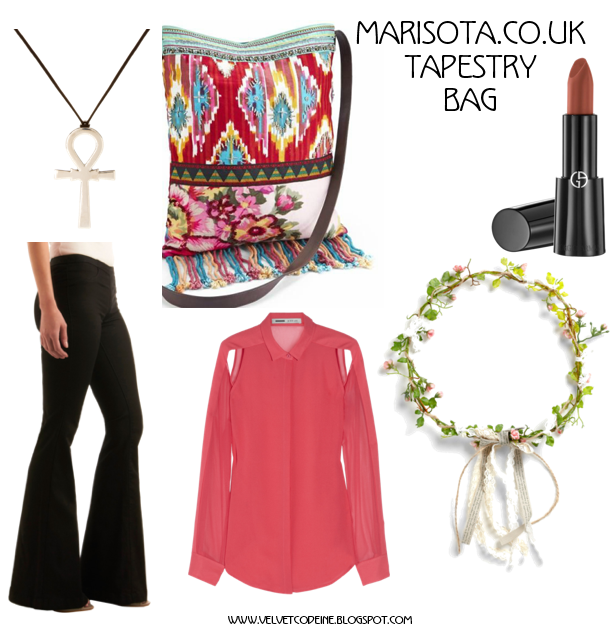 OUTFIT 3:
This
Marisota bag in floral would look amazing with a lace dress, a lightweight suede vest, and a pair of tan loafers or wedges. That's keepin' it adorable. OR a pair of creepers or Docs instead of the tan wedges or loafers to incorporate a lil grunge ;)
OUTFIT 4:
This
Marisota vintage-inspired brown bag would look incredible with a charcoal grey wool coat, a pair of sheer black tights, black or red velvet wide shorts, and a kick ass ripped up graphic tee from the 90s. I think you can go with black suede creepers with this one or some black & white loafers!
OUTFIT 5:
Now
this
Marisota bag.. Oh god. It's beautiful.. B.E.A.U.T.I.F.U.L. I'm prettttty sure that Christina Aguilera wrote
Beautiful
just for this bag because I know a lot of people won't 'get' it, but those who do, will certainly appreciate its pattern and material. I would pair this with a killer black long-sleeve maxi dress belted on the waist, a pentagram necklace, and a faux fur vest with a pair of Tardys by JC. Just.. Yes and double yes to this entire outfit.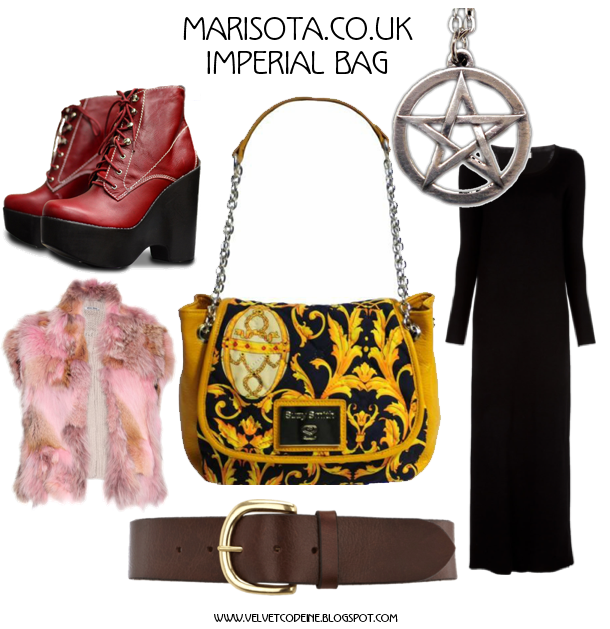 Obviously, I've got a thing for the bag collection at
Marisota
.. Ha. This is considering that bags don't usually matter to me, but these are all drop dead GORGEOUS.
Additionally, they're hosting a giveaway on their
blog
right now! Click
here
to enter! Who doesn't love free stuff? If you're a little impatient or aren't interested in what they're giving away,
like
them on Facebook for a sweet 15% discount on your next order!
I spent a few hours making these collages based fully on my style. I would wear every single one of these outfits *if I could afford all the beautiful pieces included*. Please let me know what you thought, I may do them frequently if you guys like them :)