Hey hey hey! Alright, so yesterday was my mom's birthday! Yay!!!! Mom, who happens to be my Miracle Eye parter, I love you! Seriously, thank you for putting up with my weird ass style, humor, and lifestyle.. You're the best. Aside from working for
Miracle Eye
and making every single amazing garment (aside from the turbans.. yours truly makes those, heh.), she also makes alterations for people upon request! Natalia, my cousin, was invited to the Golden Globes. For those of you who don't live in the US or just don't watch television in general (Go you! Television suxxx), it's an award ceremony where tons of attractive celebrities go and receive pointless awards for their terrible acting skills, rapping skills, shit like that. Natalia went to a thrift store and purchased this red-orange paisley, sequin filled skirt that literally fit her 10 sizes too big. It was huge, and I mean huuuuuge.. So of course, she brought it over, and my mom worked her magic on it and TA DA! It was turned into a flattering form-fitting dress. Incredible. I'll include a photo in this post of it, it's seriously crazy how she turned this really large, wide, and weird looking skirt into a breathtaking dress!
Also, what do you guys think of my new hair? Nice huh?
JK! GOTCHA! HA! HA HA! But in all seriousness, fellow blogger/soul-mate
Isabel
purchased the same wig I am wearing here and she is totally rockin' it. I'll include photos of her outfit as well. Ha, I think it's safe to say that REAL friends buy matching wigs. I mean, if you don't have matching wigs, you don't have anything, right? PS, we purchased the wig on eBay for like $15 or something. Are we winning? Wait, that was rhetorical, OF COURSE WE ARE! *chuckling slowly fading away while simultaneously turning you from a calm frog into a paranoid kangaroo..*
Plaid dress - thrifty
Black tardys by JC & leather jacket - mom's surprisingly desirable closet
Belt - hand me down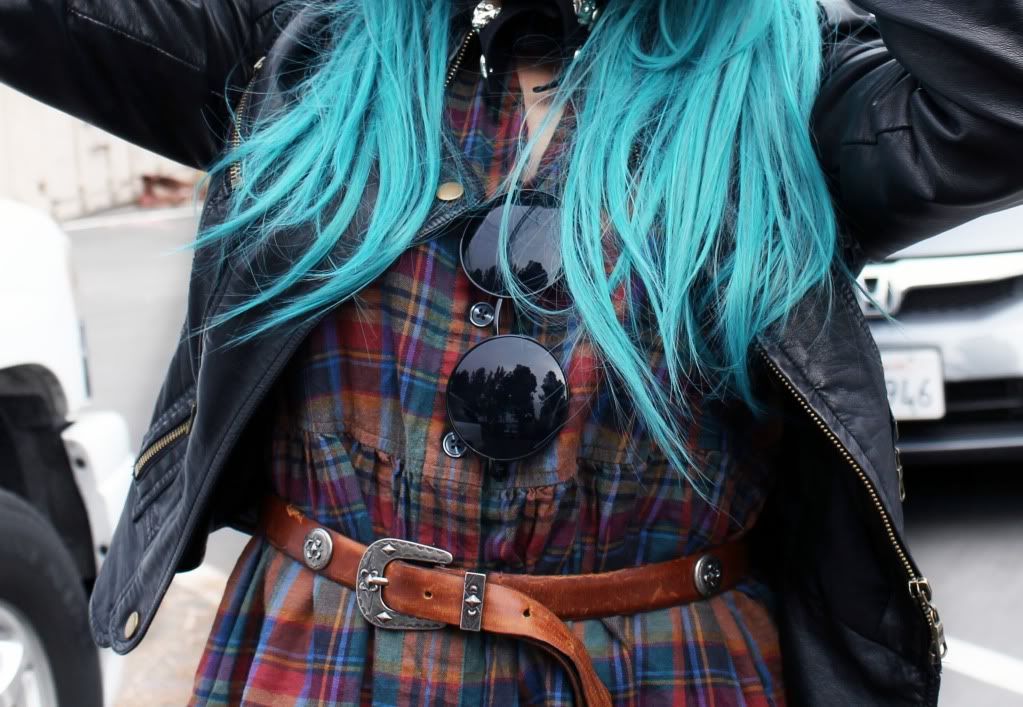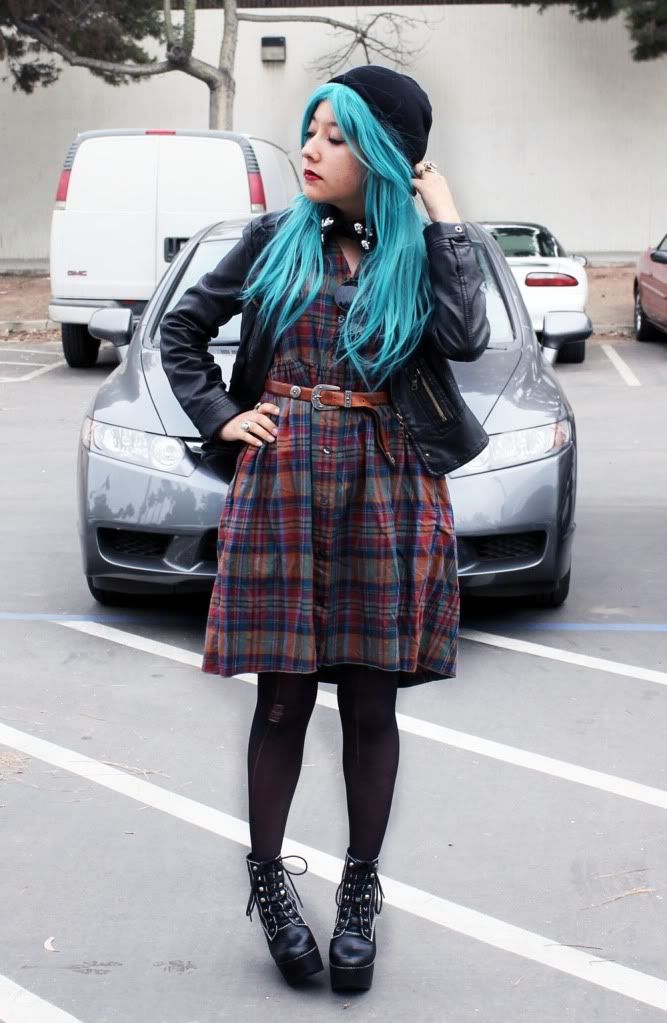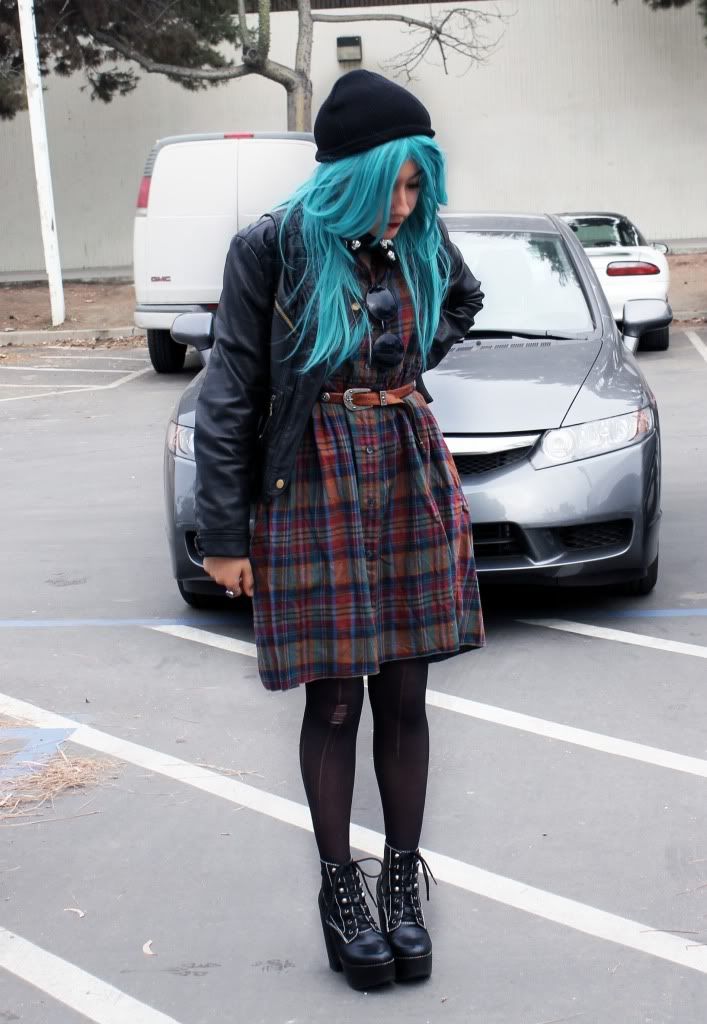 Mom and Dad, I love you guys SO much. Also, my mom was wearing a
Miracle Eye
skirt on her birthday! Wooohoo!!
This is the dress I spoke about in the above paragraph! God, my mom is so talented and my cousin is gooooorgeous.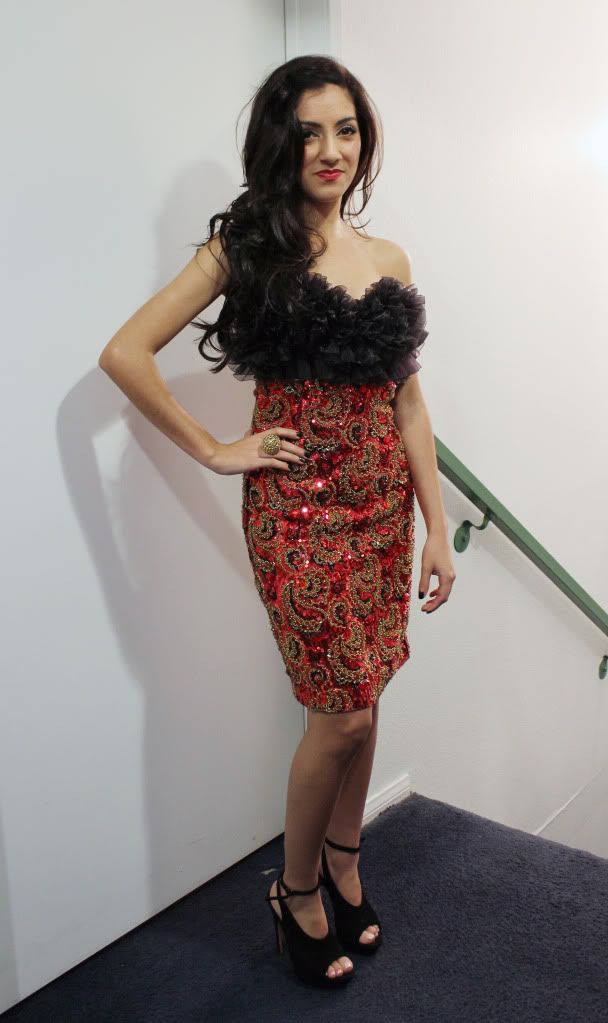 Lastly, here is my homegirl
Isabel
wearing the same wig I am! We kind of purchased them at the same time online, it was like an online shopping spree that gals do together, because you know how normal people totally do that. I love this girl to death, seriously. Go check out her
blog
because if you like my style, you will DEFINITELY love hers. Her shirt, her socks, gimmmee! PS did I mention that she has a really weird obsession rappers who happen to be male, in their late-30's, and Latino? She likes Daddy Yankee and Sean Paul (I think he's Spanish.. not sure, but who cares!). But she LOVES Pitbull. She's got quite the music taste..