The title practically says it all.. Say hello to a new dress design
and
velvet color/pattern that has joined
Miracle Eye
! I seriously cannot get enough of this dress. I love getting stopped and asked where I purchased it.. Ha. There aren't sufficient words in the English dictionary to effectively describe to you these people's faces and reactions once I tell them about my business quite perfectly. Sometimes, it can get overwhelming and just make me feel like the entire world is slowly closing in on me, but it is times like these when it just pays off. The disbelief they portrayed on their faces and through their tone during the rest of the conversation is just priceless. I'm trying to give you as much information to let you visualize it, but I honestly cannot even gather all the words myself. It's just one of those 'you have to be there' moments.
The beanie was purchased Downtown a while back when I was going through a *r3belli0us* stage in my life. Pretttttty much defines me at 13 years of age. The grey blazer was thrifted, I was indecisive at the cashier whether to go through with purchasing it because it was $6 and not like $2 or something and I'm not really that much of a 'blazer' type of gal, but I will definitely put it to use once in a while. This outfit was pretty much all experimentation. I would have never paired a tie dye velvet skater dress with a grey blazer, beanie, and creepers two months ago. Just shows you what the blogging world really has to offer. Although for this specific ensemble, I did not garner any inspiration from any blog or from the internet really. It was just me staring at my closet and holding the tie dye dress over my shoulder for about three minutes. The velvet pentagram choker is from Etsy, sunnies are from the Melrose trading Post, skeleton earrings are from eBay, creepers were purchased online, backpack is thrifted, and the rest of my jewelry is vintage. Oh and the leather fringe cuff is from
Miracle Eye
:)
Alright, so I think that's it? Yep. Have a wonderful day kids and or adults and or old creepy seniors who bookmark my blog under their page to get a view through their screen at some 'young flesh' as Google Analytics has pointed out to me as one of the search key terms people apparently type in to get to my blog. Great. Can life get any better? No, not with this dress, as it is ALREADY purrrrrfect! DuUuHhHhHh!!
PS do you like how I am slowly undressing myself for you photo after photo? *slowly dims lights and promptly plays Ice Ice Baby by Vanilla Ice on 90s jukebox*
PPS I am so close to 200 followers! Yay! Ya'll are da bomb.
Grey blazer and black leather backpack - from my local thrifty
All other jewelry - Vintage
Velvet pentagram choker - Etsy
Beanie - Raggedy old thing from I don't know where!
Skeleton earrings - eBay
Sunnies - Melrose trading Post
Black creepers - online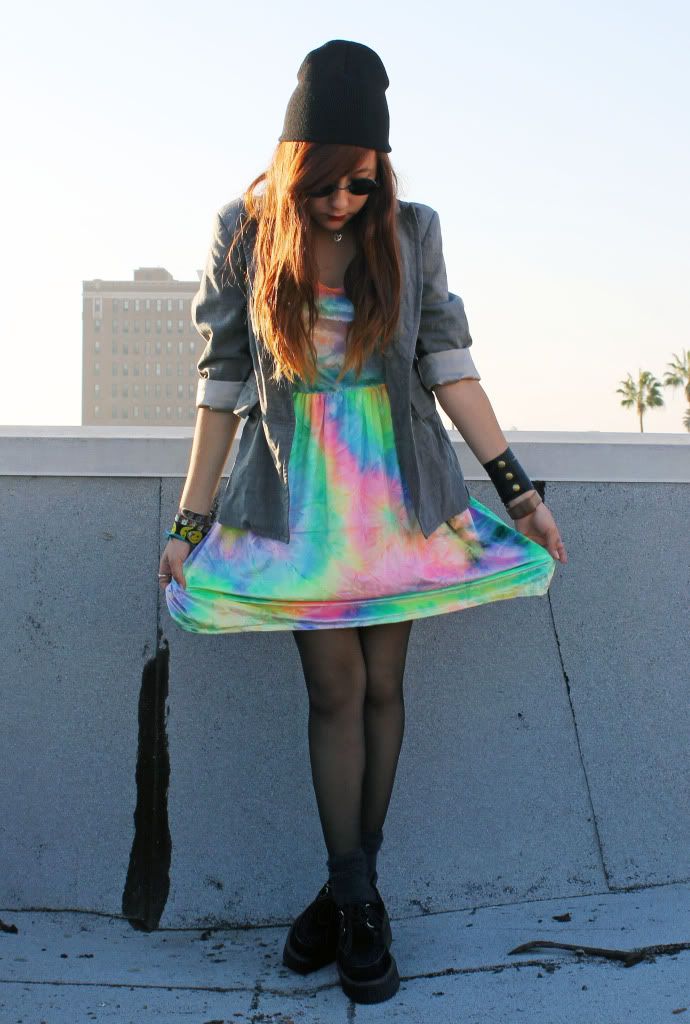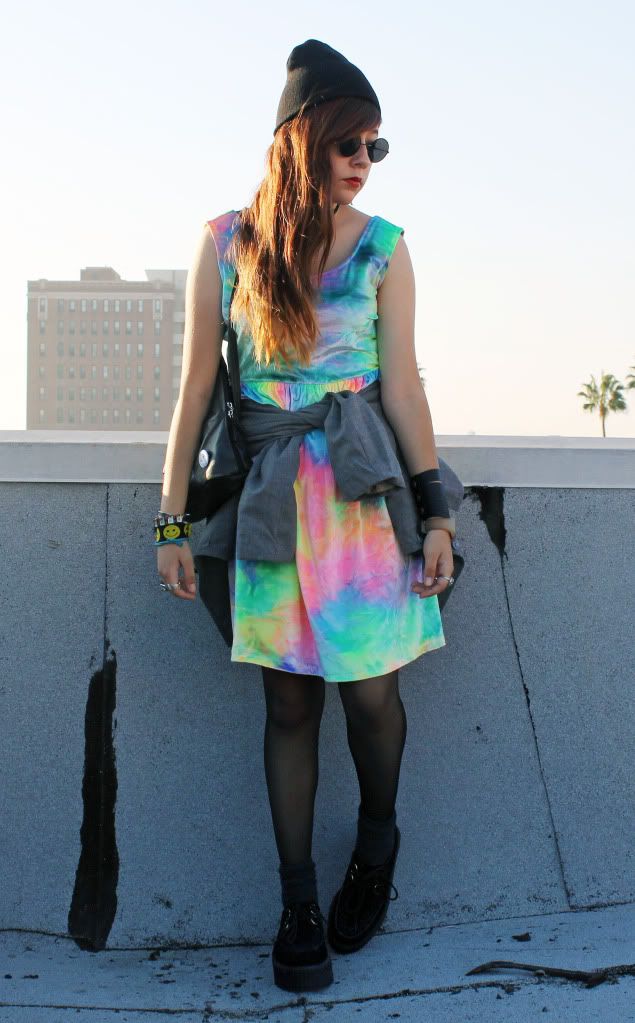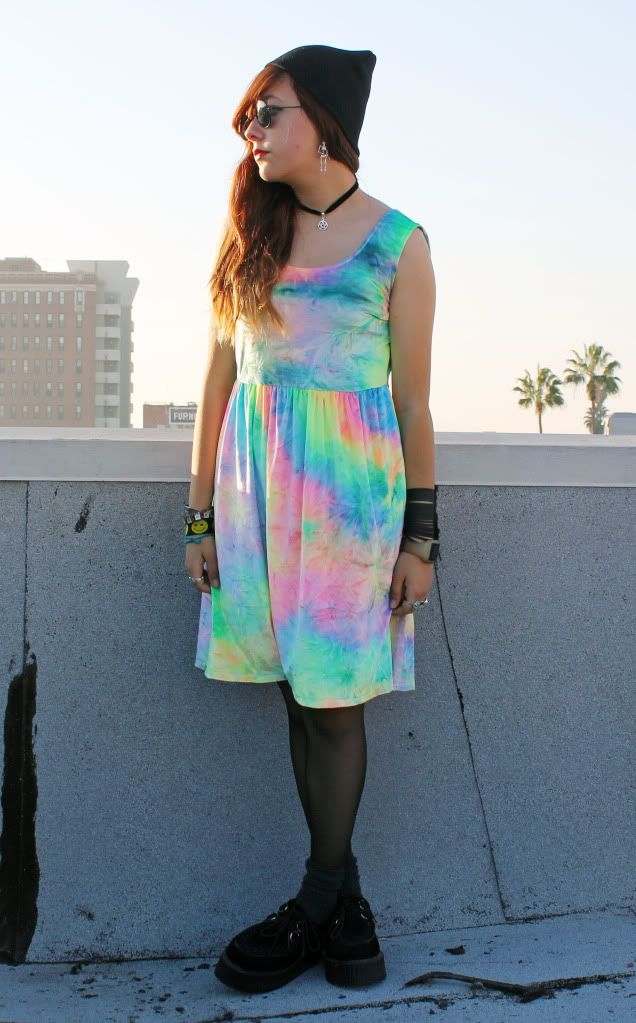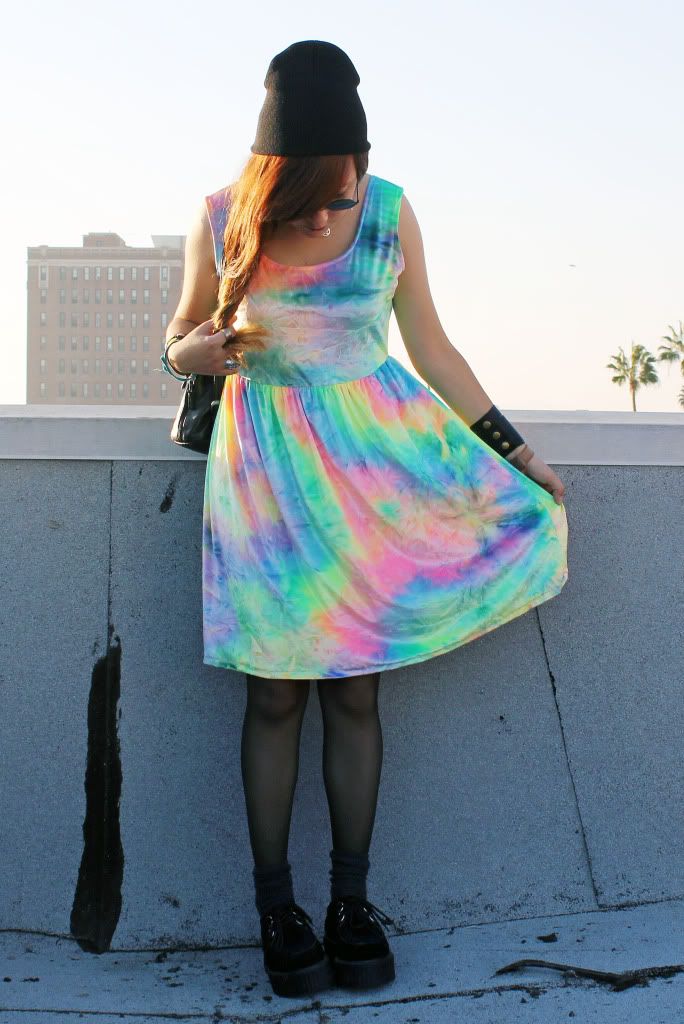 Usually when I go take photos for the blog or Miracle Eye I play music on my iPhone on blast and my friend Byron who shot these photos for me thought it was hilarious and ghetto. I don't understand how it is ghetto. Do you? I mean, Apple sure wouldn't have built speakers on the iPhone that go as high as they do if they didn't intend them to be used, haha. He insisted to take a 'sample' video of me to show my readers how 'dumb' I am. So, ta da! I will forever continue to play my "Photoshoot Songs That Are Good And Stuff" playlist until the end of time. No matter how ghetto anyone may think it is. Including Byron. SUCK IT YOU MOTHERTRUCKER. PS watch it in 720p if you would like to view my wonderful flaws in ~high definition~ ;)