Hello! Look at me! Posting two days after my last post. I like this. Do you like this?
This outfit was sooooooo comfortable oh god. I could sleep in it!! Pendleton wool jacket is from Miracle Eye and the skull and spikes necklace is also from Miracle Eye! It will be added to the shop soon. I have been living off of red velvet cupcakes for the past few days.. When you have parents who purchase a 20-pack of these cupcakes every two weeks you have no choice really. It's like a punishment, that makes my taste buds tingle? I went to visit my mom at work a few days ago for the first time and met her co-workers. This was pretty much everything summed up:
*walk Larissa, just ignore them and continue to your mom's spot.. Ignore them ignore them*
Co-workers:
Gloria!!!!!! IS that your daughter??????????!!
Mom:
Yes! Larissa go introduce yourself!
*why is my life so..*
Me:
Hey! Hello!
*awkward squirm*
Co-workers:
Hi my name is
*insert eccentric name, ex: Catarinay or Equala*
Me:
I'm Larissa! Okay well nice meeting you! Goodbye!
*more awkward squirming*
Mom arrives later that night. Tells me all her co-workers think I am ~model-material~ then later find out I
am
a model. They are impressed. Later find out I model for my own
brand.
*mind-fucked* My mom tells me she is proud of having a daughter like me. Yeah mom. I bet your proud of my impressive squirming.
Because I love you all so dearly, the last photo on this post is a picture of my infamous *awkard squirm*. Now just add a weird as hell squeal similar to Pikachu's. Yeah. TOTALLY MODEL-MATERIAL.
Have a guh-reat day-o y'all!
Skeleton socks - online
Eagle tank - from my local thrifty, then altered to a more fitting tank
Shorts - thrifty
Skulls and spikes necklace - coming soon to
Miracle Eye
!
Black creepers - online
Behold..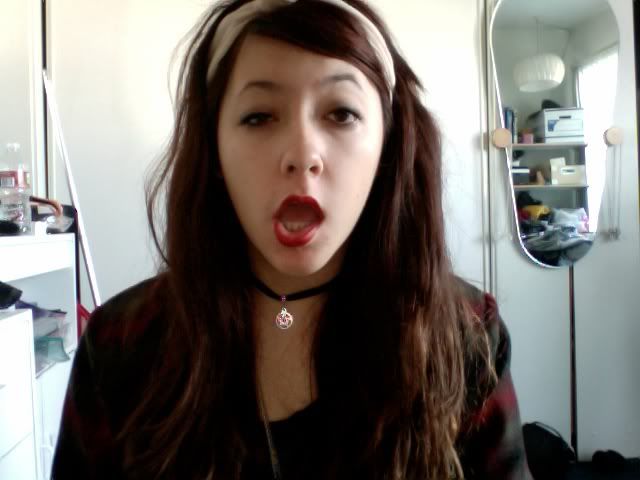 I am the epitome of cool.